The Point of No Return
Summary: Bright sunshiny days sit wrapped up waiting to be unraveled just as light heads toward a droplet of rain to be refracted. Your mind as lens awaits the arrival of a beam of understanding, but first the obscuring clouds need to be scattered. Rather than look at the expanse of darkness that looms over reality's screen, turn your attention toward what the shadows have manifested. You need not look far, yet you might need to use something other than your forward-trained eyes to see them. Let your awareness seek out the points where the solidity of given manufacture of thought has rooted itself in your being. Be not afraid, for they cannot slay anything but the shell of meaning you had been carrying around during your trek in the land of desolation. A simple shift of perspective, a tilt of your lens, and you'll see the true lay of the land around you. First, free yourself from your mind's trappings. This is the way to prepare for time's re-entry.
Scroll down for the full message…
Ten of Cups — Ten of Swords — Judgment (reversed)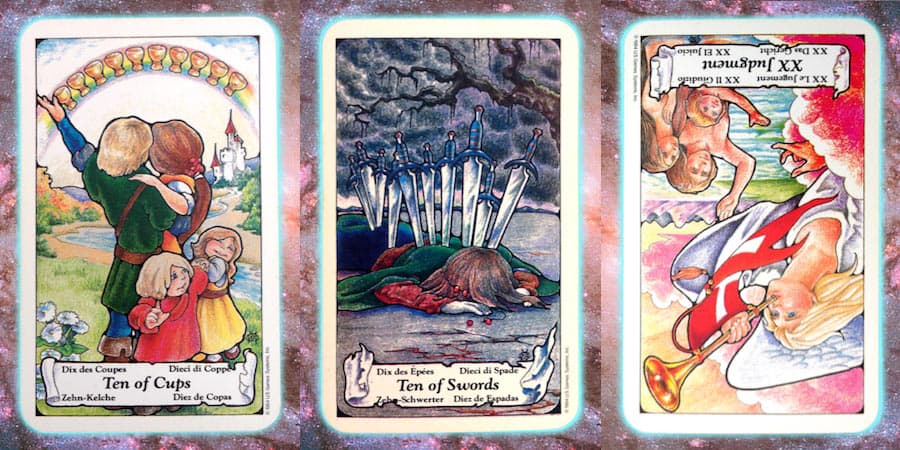 A simple tilt of your lens, and you'll see the true lay of the land. Free yourself from your mind's trappings to prepare for time's re-entry. #pleiadian #itisdone #ninespath Click To Tweet
FOUNDATION: Ten of Cups
Sunny skies would be welcome now. Despite what's going on outside the framework of your own corner of the world, you can create that for yourself. Under the aegis of love, your own state of mind is well able to create, formulate, and project. What is it that you'd like to experience? How would you like to be connected? While this is in the making, you have only to hold the picture. Maintain the feeling as best you can to infuse the foundation of this day, today, with love's beneficent presence. If all you can saturate with good will is your own mental attitude, so be it. Start there and trust that you have an in with the source. Even the trickster can point toward the sun, while teasing you into keeping your eyes shut for now. While you keep this wait-and-see stance, give yourself into the feeling. Details may be present, yet not in absolute form. Some pieces of the mystery are kept hidden until the end. It's these pieces that hold the steady contact with the shining face of divinity. It's the part that you can't yet discern that sits in reflection with the full light of revelation. What there is as the key to your happiness that isn't yet inscribed in your hand awaits only the tick-tock of time to reveal itself to you. You will know what it is to have an assembly of creation settle into place within the framework of feeling that you have projected. Steady yourself and keep your eyes on the goal. It's not to the mystery's details that you need to cast your gaze, but to what the mystery itself is in awe of.
LODESTONE: Ten of Swords
The culmination of pushing yourself into the position of belief is the full release of that which you no longer can be. It's not a matter of walking away from who you were, nor of casting aside the accoutrements that defined a persona that had settled in your stride. Rather, it is the death by a thousand cuts that you inflict upon yourself, carefully and surgically separating from your settled-in status the truth of who you must now be. You can't carry on any longer with the person who moved you through the landscape of growing desolation, not to move into the space where you've set your sights. To believe fully in where you want to go exacts a price, nothing less than yourself. Yet, it is not you that must be sacrificed. It is merely the juggernaut of ideas, presuppositions, habits, and programmatic thinking that has cast itself in a conceptual mold, upon which you have cast your name. While the skies yet hold the weight of death's shadow, consider allowing all that you have made into a mashup of self-concept relinquish its driving force. Can you give yourself permission to let go of all that had propelled you onward within a landscape bereft of life's promise? Give yourself a pat on the back, and acknowledge that the one you have been all this time has served you well on the journey of understanding. As you do, also give yourself the directive to let go of the orders of function, the derivatives of meaning upon which you based the execution of your life. Now, you have all you need to know. Next, rise.
MOST OMWARD DIRECTION: Judgment (reversed)
Life will again flood the atmosphere, rosy in glow and heavy with promise. As it does, the time of doubt will recede with the shadows. Effulgence is perched on the edge of now, ready to engulf the landscape with the full force of day's encroaching song. Trust is making itself known, steadily building in an entry. Can you hold your own self steady while the inbreath finishes taking in the full spectrum of possibility? Before the blast of a new vibration can be released, everything has to be taken into account. Yes, there is a sense of impending change. You cannot yet know what that will be, not until it happens. You must wait, as time itself becomes suspended in anticipation of the inevitable. Wrapped up in the folds of a flag of new design is the tantalizing aura of a new dimension of energy. A vibrant echo from the future makes its ingress where a watchful humanity waits. How will you greet fate's pronouncement? Can you yet wrap your head around the fundamental construct of love's fair play? Continue to strip away all that you have carried to define yourself. What is set to unleash itself upon the whole of the scene asks that you have no thread of past processes lingering about. A fresh vibration of light will weave all that you need to clothe yourself with, all in due time. As it is with you, so it is with those magnitudes of selfhood greater than the individuated person. All is stripped down, dunked in regenerative waters, and reborn, from the part to the whole.
THIS WEEK'S CONTEMPLATION
"Core values are merely poles of a natural longing for integration, anchors keeping the loose ends of belief from emanating themselves into an unmanageable tangle of personal deities of different names. Certainly core values prevent worlds from disastrous takeovers, but they can also cause them. Brotherhoods become slave quarters just as easily as Dragons can become reptilian healers of pandemic social unrest."
— An excerpt from Opalescence: The Pleiadian Renegade Guide to Divinity
© Maryann Rada, all rights reserved. Repost permitted with link to original post.
PROPS
Thanks for your kind support!