Consider Yourself for a Moment
Summary: How aware are you of what you know? While it's easy to get lulled into a false sense of complacency about how things will turn out, weighing one against another, there's nothing like the truth to set things straight. Tune in, and while you have your eyes closed, take a good look at yourself. Where is your impeccability ready for a loving reality check? Remember your influence in the chaos that follows the storm's clearing. Choose well what you value, and how you participate in the cleanup.
Scroll down for the full message…
Two of Pentacles  — The High Priestess — Five of Swords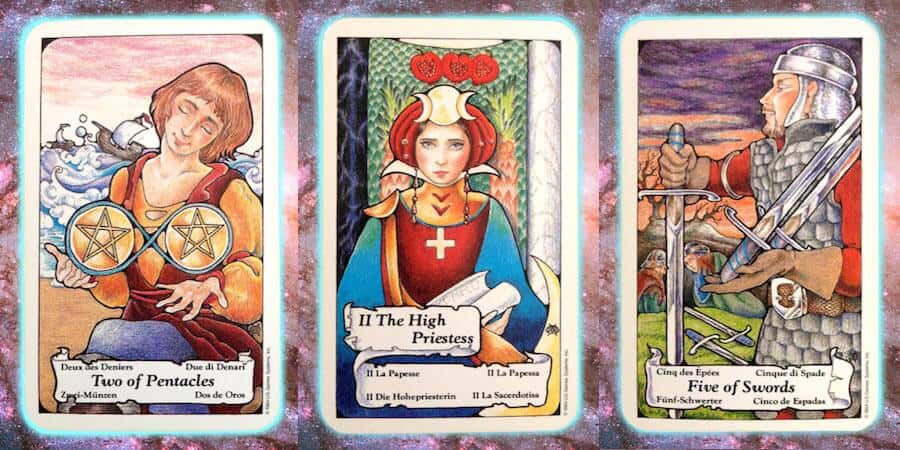 The good news is that you're getting the idea. Listen to what arises from within yourself now. Choose well what you enter into. Be an agent of grace. #pleiadian #tarot #nine Click To Tweet
FOUNDATION
Two of Pentacles

Everything is all right. I have everything in hand. The ship of state will right itself, and I can help it if I just lean a little more to one side. These and other sweet nothings that you tell yourself are lulling you into a kind of complacency that puts you in danger of losing the plot altogether. While you do have things well in hand, and you are maintaining balance of all the little details of your life, there are just a few things you have yet to bring into cohesion. Until you do, what you sense in the back of your mind will remain askew. The good news is that you're getting the idea. You're beginning to realize things for what they are. While this may or may not bring you into a clear and solid space upon which you can build your dreams, you can at least pay attention to what your dreams are telling you. In the fluid state that is reality, you actually might be in the best possible place. It might actually be a good thing that you can't feel the solidity of the ground beneath you, because the shifting sands are giving way to a whole new way of understanding some foundational concepts. Perhaps you're right to be in the state of mind you're in, lately. It just might be that you find the balance point for keeping your world going by focusing on that inner point of nothingness. In the bigger picture, it's the space of all potential that makes all things possible. Clear your vision now and let reality settle back in place.
LODESTONE
The High Priestess

It's not easy being right all the time, nor is it sustainable without expanding your ability to recognize truth where it lay. You've been studying and mastering all sorts of esoteric knowledge, all manner of methods for casting reality's spell a little more sacredly in the direction of making sense. If people don't listen, it's their choice to learn how they wish. You've chosen your path, and it's brought you to the point of serenity in knowing. Myriad explorations over countless lifetimes have imbued you with the incense-laden air of ethereal command. Own it, dear, as you've most certainly earned it. You've brought it to such a high level at this point, you were likely born with it. Carrying such a burden of knowledge is nothing when you realize it's an inborn sense of human beingness. There is no weight to bear when you become the embodiment of higher mind. In fact, it's a fairly humbling experience in itself. Self-recognition can be surprising, when you sit and reflect on it, actually. Right now, you should be recognizing where you are as a function of what you have embodied, as wisdom, as higher knowledge distilled into a sublime thing dissolved in the depths of intuition. Listen to what arises from within. Let it tell you where you need to look for the next refinement of your already majestic powers. You might want to sit down for this one. It's time to take idols from pedestals and seriously assess the project of self-creation.
MOST OMWARD DIRECTION
Five of Swords

Truth hurts, lies divide, and in the middle is misunderstanding rife. Lies can hurt, too, and truth divide; that's just as valid a way of seeing things. Trouble comes when they are indistinguishable from each other. The obfuscation of mixing the two up creates a maelstrom of darkness, through which precious little light can shine. Someone's busy gathering up information so they can sort it out for you. How do you feel about that? Do you trust the one handling the data? Can't you sort through what new information you have and figure things out for yourself? If it concerns you, are you able to speak your truth without being overshadowed by another point of view? So many questions arise. It could be—were you to be truly honest—that you are the one who has the upper hand in the argument. It could seem so, at least. If so, be aware of your place within the bigger picture. Take a good look around and reassess your hold on truth and its effect on the landscape. Whatever the case may be, the time has come for clearing up misunderstandings. Heavy clouds will part, darkness will dissolve, and the light will again fall on the just and the unjust. Choose well what you enter into. Regard the potential for conflict, knowing that to perpetuate division gives the lie an extended shelf life. It's time for change, and in the chaos that inevitably comes with cleaning up the mess, remember: you can drive your point home without causing harm. Agent of grace, be the example of peace where it's most needed. Clear the way to find common ground.
THIS WEEK'S CONTEMPLATION
"Because so much fear abounds, so do misunderstanding, mistrust, and deceit. You are often disillusioned at the reality you experience. As a rule, humans tend to get stuck at anger over disillusionment and get swept off-course by currents of thought that are stronger than anger but not in accord with grace, either. Grace acts as a divine breath from OM-centered love-generating Source, and gently renders you powerless in your death-seeking direction."
— An excerpt from Opalescence: The Pleiadian Renegade Guide to Divinity
© Maryann Rada, all rights reserved. Repost permitted only with link to original post.
Get into Opalescence
Explore Nine
You can join a discussion of this and other tarot posts at the Roundtable Forum: http://www.transients.info/roundtable/