Quite a Simple Thing
Summary: The call has issued and you have come to attention. A motionless breath, and the decision has been made. To understand the magnitude of what has been set into motion, you can look at that impulse that precedes a first step. That having been taken, now you observe yourself on the way. Time and space open to give you guidance. From distant patterns of light to the immediacy of genetic codes unraveling time-released divinations of self, you have multiple accordances by which to know you are moving the right way. Openings appear where had been untenable circumstances. Your own indiscriminate certainty about any aspect of your soul plan stands in full regard of all that you have always held in potential. The movement to mastery lay in observing the patterns of form. The key falls within reach.
Scroll down for the full message…
The Chariot — Knight of Pentacles — The Hierophant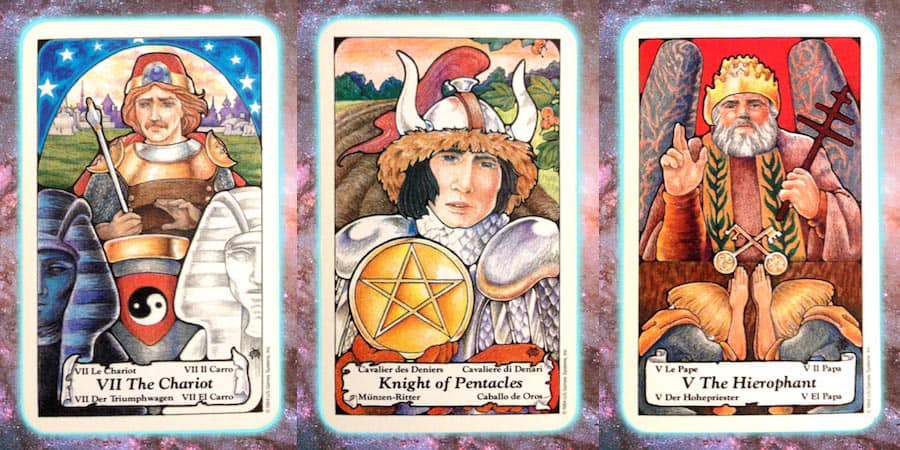 Give your mind over to the secret chambers of the heart. The most tenuous threads lead you to awareness of who you are: divinity embodied. #pleiadian #divinehuman #ninespath Click To Tweet
FOUNDATION: The Chariot
Considerations having been made, decisions weighed, it has come to the moment where the die is cast. Not only has all the luck been gathered into the hand sure and steady for a roll of fortune to come up favoring the star-blessed. Surely this has come to pass. The tumbling tools of fate fall where they will. Where have you weighed in on your internal balance in the recent summons to decide? Thus have you thrown your hand. Wisdom has drawn your attention heartward; thus propelled, you may find yourself heading straight between a pair of irreconcilabilities through a gap of non-interactive silence. Observe yourself having cast your die. Yet there is another consideration to casting a die, which involves projecting your intent into a malleable yet-to-be time and space into which you imprint your will. What shape you have determined has assembled itself more likely from what you have cut away than what you have added to the form. You face it while trusting that your movements are sanguine with the path of love's greatest triumph. Have you drawn enough connections between what you have been made aware of and what you have witnessed? Are you satisfied that the guidance you receive internally well matches the pieces you have watched fall neatly into place? While this is well and good, do not tarry. Resist the distraction to do more than comment that you seem to be on the right path, and become one with the impulse that drives you forward.
LODESTONE: Knight of Pentacles
Where recent events might have set you at the outer edge of a plate precariously balanced, more lately, you seem to be sidling into a zone of greater disambiguity. No longer are the constructs of a falling reality making amends that force you to push into a position that feels awkwardly out of place. Rather, conditions, having taken on a life of their own, are reconciling with time to reorganize according to a more advantageous undertaking. This is nothing short of a complete settlement of what had been at odds with itself. From within it, you are likely to come face to face with an aspect of yourself that has been carrying a very important message to the service of your soul. It is of the utmost importance that you pay attention to what looms in full costume before you. Deep ancestral ties conduct the charge. Your lineage arrives and with it, a secret which which you are able to decode what is deposited at your feet. Grounding into the unknowable wholeness of the human family will help you decipher your own unique amalgamation of encodements cast into time by nameless avatars from your bloodline. You carry some aspect of those whose voices once called to heaven for an answer to their prayers for everything to turn out all right. Only the language has shifted, the dress, the national boundaries, while yet the familial plea for divine intervention lingers timelessly unaltered. You are given the relic to carry on, and having brought it to this moment, to present it fulfilled.
MOST OMWARD DIRECTION: The Hierophant
At the base of a towering monument that stands testament to the unfailing grace of the higher court of natural law, the hand of wisdom reaches into a space of receptive supplication. Before the highest point of true unity of purpose can be gained, there must be a genuflection toward the foundation that bears the weight of justice. In faith, come into equilibrium with your inner arch-nemesis. It will not destroy you. What would be your destruction rests in peace facing the calm power of your inviolate supersymmetry. You will find balance and order at the root of where you find the sense of spirit. For just a moment, allow your physical senses to serve discovery of something both new and timeless. Give your mind over to the secret chambers of the heart. Seek within the constructs of tradition, civilization, religion, and order the space between things that guides your attention toward what lay beyond. Despite what flavors your point of view, the undiscovered awaits within forms given shape by time and convention. There is wisdom within the walls of the rectory, and a pathway to love to be unmasked by the chiseled hardness of visages long held to be devoid of life's warmth. Life stirs within the most austere forms. The most tenuous threads will lead you to your rightful place within the pantheon of your awareness of who you are. You are divinity embodied, carrying the breath of God's mind. Come alive, time traveler. Make your pronouncement.
THIS WEEK'S CONTEMPLATION
"In a dramatic moment of self-recognition, you dance for joy as you see that all the fear you no longer bond with had arranged you as an image of imperfect bonds of atom to atom with odd angles and missing links, draining energy through a series of downward-spiraling structures and incomplete crosslinks from one dimension to another via crystalline DNA's interstitial gaps of light. As you are given the image of your perfection by the brain of creator mind to focus on, you are able to reposition your DNA's doubting bonds to a place of complete doubtlessness."
— An excerpt from Opalescence: The Pleiadian Renegade Guide to Divinity
© Maryann Rada, all rights reserved. Repost permitted with link to original post.
PROPS
Thanks for your kind support!