You've Got It
Summary: Fathoming the undercurrent has brought you into self-knowledge, and that has brought you into a state of burgeoning self-expression. You know who you are, and if you need to take a moment to settle into appreciation for how it is that you came to be where you are now, do give that to yourself. Reflect on how something that started out as such an irritating, unappreciated element in your otherwise happy-as-a-clam potential has actually been the catalyst for exquisite transformation. Celebrate that in the temple of your heart. The time for sharing will come as did the evolution itself, with grace.
Scroll down for the full message…
Ace of Cups — The Emperor (reversed) — Four of Rods (reversed)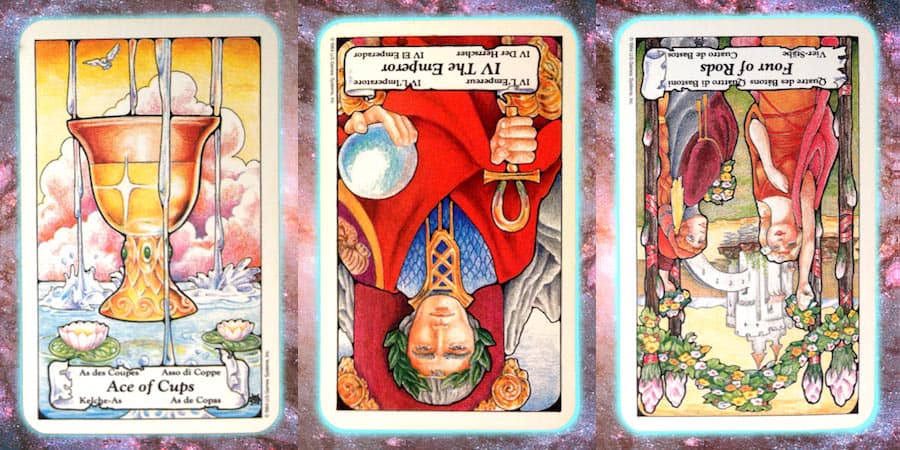 What started as an irritating element in your otherwise happy potential has catalyzed exquisite transformation. The time for sharing will come with grace. #pleiadian #divinity #transformation #worldchange Click To Tweet
FOUNDATION: Ace of Cups
Having spent time in the depths of your own conscious world, you have seen much, experienced much. In all the exercises of letting go, you've given yourself more room for what it is that you thirst for. As you emerge from a time of willing exploration of life's undercurrents, or even a chance foray into them, it seems you might be able to express more freely what you've encountered. It's not necessarily new knowledge, though there's always plenty of that to dive into. Rather, having acquiesced to the guidance of universal intelligence, divine encounters with yourself have yielded a fountainhead of intuitive realization. You've no need, nor likely any desire, to disregard the buoyant nature of your spirit now. Letting it flow, or overflow, will not drain you. Not any longer. You are self-contained and sturdy, yet open and in total connection with the sacred source from which the purity of your inner nature derives its life-sustaining flow. Take notice of tokens of that purity taking form in your creative endeavors. What emerges from you now is itself the form of your pure inner nature, bathed in what has no limit, no essence of anything but what always and only Is. You've learned something from giving yourself into the flow. You've stepped into those formless waters from which arises a purified awareness. Has it been worth letting go of some vestiges of what was? Dip into your heart and you'll see it just might be so. How much life can you hold? Let it flow, be its conduit.
LODESTONE: The Emperor (reversed)
When diving, sometimes it may be that you encounter a pearl. Some gritty, irritating presence might in fact hold exactly what it takes to stimulate the evolution of a precious, perfect expression of what you're capable of. While what is perfect may exist, what becomes perfect is more a matter of dealing with some seed, some original imperfection. Such mastery is not merely for some elite echelon that holds a key unreachable. That key is yours, and if you pay attention to what is going on in your inner evolution, you'll find that you have held it all along. As you gain understanding of the true nature of power and might, you learn some things that seem unfathomable, out of order with what might make sense. It's not unusual to find some guiding wise man to lead you to the learning. Such a one can be helpful, but in the final analysis, it's your own path to follow. Once you step into that realization, you find the teacher within. Like a grain of sand within the pearl, everything you have encountered has been present as potential for perfection to emerge from within. You stand firm as one who has defied fear and limiting belief. As you steady your gaze to fully comprehend where you are, give some thought to how you came to be there. It takes a lot of dedication, patience, and surrender to the guidance of a high teaching. What emerges is the fruit of what was in the seed. If you see the perfecting grace of love in your hand, know that it is love that got the ball rolling in the first place.
MOST OMWARD DIRECTION: Four of Rods (reversed)
You have your own way of doing things, and why not? Even following a strict protocol of a spiritual prescription, your nature presents itself in the grace of your gestures, the sound of your voice. The frequency signature that you carry gives just as much to any ritual of discipline that the discipline itself gives to you. In such a give-and-take, balance eventually emerges. Even if the discipline is utter chaos, eventually harmony can settle in. It's your awareness that gives it the subtle push to establish the divine codes you hold, potentiating into something when the time is right. When at last your trembling hand is steady, you'll make the gesture that signals to that which has always known that you got it. Homecoming is in setup mode now. All the inner preparations are finalizing the details and readying for what's to come. Your arrival as fully integrated and activated could just be the event of a lifetime, so let your efforts now relax into the inner state, to help that preparation along. Your hard work will pay off, but before you start spreading the news of your triumphs, let the joy take root in your own being. Tending that joy first for yourself, in reflection and gratitude for all that brought you to it, will multiply it when at last you can reveal it to the world. That which forms your inner nature already knows, and celebrates.
THIS WEEK'S CONTEMPLATION
"Home. It is everywhere and everytime. Knowledge of it long ago was lost in the reality of love forgotten. Nemesis legends come to life in Zen-master calm, having completely assessed the situation and arrived at the conclusion that mastery of everything lay in accepting the rich treasure of opportunity in learning how to weave love into nature in any form you can imagine."
— An excerpt from Opalescence: The Pleiadian Renegade Guide to Divinity
© Maryann Rada, all rights reserved. Repost permitted with link to original post.
PROPS
Thanks for your kind support!
Sorry that this post was not useful for you!
How we can improve this post?