It's All About You
Summary: Knowing that you've been plugging away at the work of your soul's adventure, you hold in your hands the final piece of a grand task. Be at your work with joy, trusting that you have what it takes to craft it well. Let the light of blessing shine with new insight. In this way, you can acquiesce to a higher order of mind. Release yourself from worry and move into alignment with the glory that is writ for you.
Scroll down for the full message…
Eight of Pentacles (reversed) — Nine of Swords (reversed) — Nine of Pentacles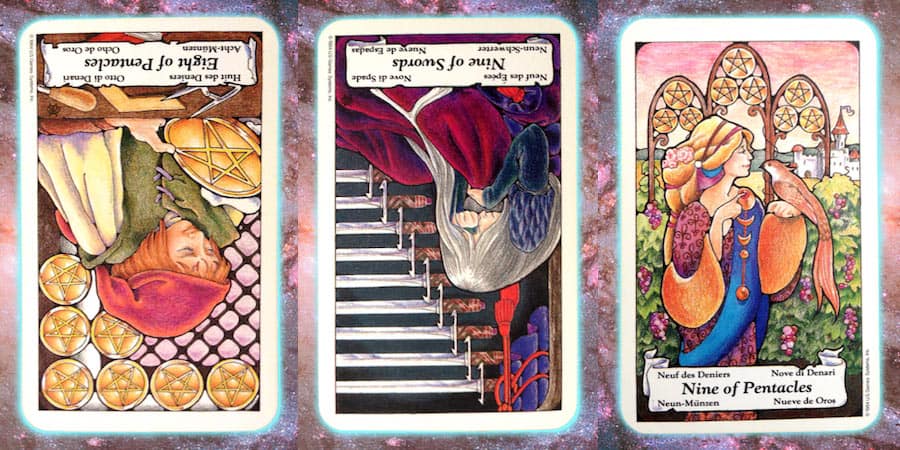 Settle into the groove of this thing you're doing; you've built a worthy foundation. The divine plan for your path will soon be evident like never before. #pleiadian #divinity #transformation #worldchange Click To Tweet
FOUNDATION: Eight of Pentacles (reversed)
Steadily, surely, you've been doing what's necessary to move yourself into position. Your aim: to greet the light of a new reality that shines with the truth of soul purpose realized. Look at what you've accomplished. It's all arranged neatly in the background of what you're at task with now. Settle into the groove of this thing you're doing, knowing you've built a foundation worthy of your continued effort. Don't slack off, now. You haven't come this far just to turn and walk away. Sure, there is some work being asked of you, and only your hands can transmit the wisdom and experience that's needed in this final phase of development. What's at stake now is nothing less than your life's project of becoming. Fortunately, you're sitting in blessing. Your space is well-lit, and you have all the tools at hand by which to put your unique mark on time's gift. Take a moment to reflect on that, knowing in the back of your mind that you've been diligent with the work of the spirit, that you've been striving all along to maintain your own efforts with the underlying warp and weave of divine design. Yes, you're tired, but you're not beat. You've seen and done a lot, but you're not finished yet. Will you be dealing with more of the same old thing? Not likely, but what you have done thus far has prepared you to see even the same old thing from a brilliant and revivifying new angle.
LODESTONE: Nine of Swords (reversed)
All right now, things have been looking pretty bleak, at least from a certain perspective. Parts of the whole just haven't lined up exactly in a way where you've been able to make perfect sense of them. Can you be okay with that, and trust that you don't need to have all the answers in fine detail presented in a well-crafted essay? No one is present to grade you on your work. Only you have that right and that power. While others may wield the stuff that has to do with commentary on your performance, only you can spur that into action. You are the maker of dreams, the loving crafter of nightmares, too. Who or what are you beckoning into your inner space where everything begins and ends? Close your senses long enough to tune into your knowingness, your antenna to the truth, and see what rises to answer your plea for sense, please. You do have the answers within. All your worries and all your doubts will fade in the light of your own illuminated understanding. Get in tune with yourself. You are on the right track. If it doesn't feel like it, all you need is to get right with yourself, and right with your source. Slow down before your thoughts get out of control, and remember you have what it takes to move into an expanded state of being. Get the rest you need and stop worrying. Your energy is better used in moving into alignment with a higher order.
MOST OMWARD DIRECTION: Nine of Pentacles
When all is said and done, when the time has passed for lies, and half-truths can finally be dismissed, then you'll be in a position to fully appreciate the wonder of the current state of affairs. Getting into that set of conditions where meaning is discernible in the most sublime of esoteric appearances doesn't come without effort. The ability to see the perfection and simple elegance of nature's expression requires some diligence. There's always been a divine plan for your path. Soon, that will be evident like it never has before. At that point, you'll have entered into a state of grace, in a way. Grace. Can you see yourself there? Find the threads of gold that weave through your reality now, and follow them to their inevitable movement in the design of fulfillment and harmony. If you can't find them just yet, lift your spirits as best you can, trusting that reality will follow. That's not the same thing as determining the outcome of things as they are. Rather, it's in recognizing that the gardener of that which is to be has given deep consideration to every aspect of the environment. You're asked only to trust that, and to move into it when the time is right.
THIS WEEK'S CONTEMPLATION
"For too long, you have dwelt as outcasts from the garden of love, wandering as one lost and without direction or memory. Come now to the place of remembrance of your origin. Home is here, yes, for now. Our home has been divided and scattered, yet we carry the memory of Lyra always within our hearts, without bitterness, without regret. In the reckoning of time, that home is no more, but in the reality of timelessness, it exists yet in the perfection of the golden radiance we know as Home. Within our hearts, we are ever connected to it."
— An excerpt from Opalescence: The Pleiadian Renegade Guide to Divinity
© Maryann Rada, all rights reserved. Repost permitted with link to original post.
HOW MUCH DO YOU LOVE PLEIADIAN TAROT?
Join a discussion of this and other tarot posts at the Roundtable Forum. On Facebook? Join the Pleiadian Tarot group!
NEW! See the weekly messages on video

Remember to share! ✨
Nine's Path Pleiadian Tarot messages are posted every Thursday, with a follow-up for keeping on the path posted on Monday. Subscribe for updates.