Master Your Inner Reserves of Power
Summary: After the long journey to reach the shores of a new dream, you find yourself at a point of temporal suspension. Inner reserves spent, you've given, released, cleansed and cleared, let go, cut cords, and now you have a new reality just in front of you. Move forward with your power in your own clear control. Adjust as needed and the way to your destination will be easier to tread than just blasting through willy-nilly. Everything you need is coming to you. Trust the plan.
The Hanged Man (reversed) — Ten of Rods — The Magician (reversed)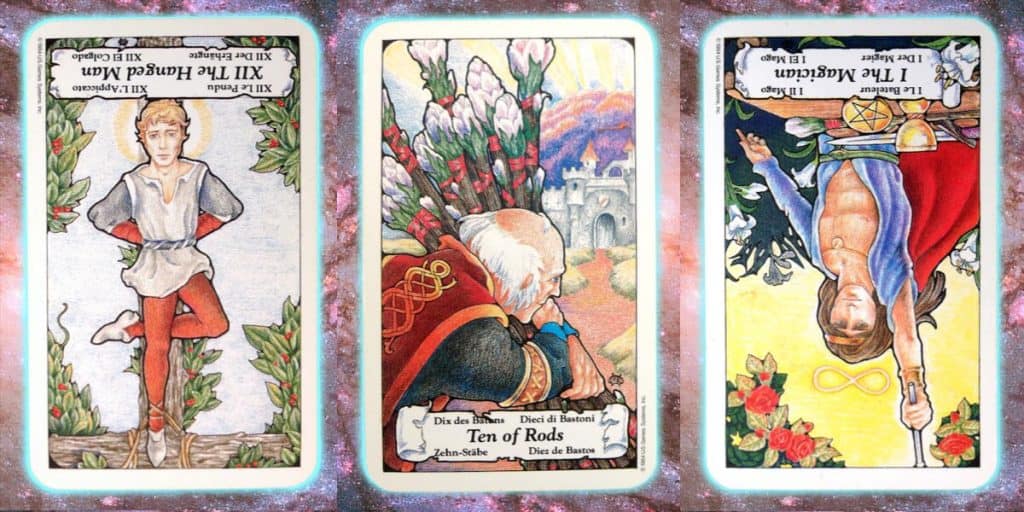 As you move toward getting acquainted with what you are about to discover, feel the greatness of the raw power you wield. #pleiadian #tarot #nine Click To Tweet
FOUNDATION: The Hanged Man (reversed)

The time has come to learn a new dance. Everything you've discovered of late has brought you face to face with some surprising facts about your life. Perhaps you're not so surprised at what you've found out, so much, as you are at how much you're now seeing. At some point, you knew you would come to the bottom of the barrel. It seems you may just have gotten there with this last foray into the depths of your psyche. Neither a barrel of monkeys nor a barrel of laughs have you found, but the dregs that have settled while you were figuring out various ways to siphon off all the stuff you no longer needed. Before you drink from the inner reserves again, you are wise to clear out everything from the very bottom. It will clear your head so you can see things in perspective once again, and better yet, in a new light. You've not been hung out to dry just yet, though it may feel like you are lacking some vitality, some juice. The thing is, you have arrived at your destination and are still soaking wet from the dunking in reality. Take a moment to realize that everything has changed. Do a pirouette and turn yourself around, for this moment is momentous. Let your vision adjust. Everything you were extending upward, outward as hope is actually digging in roots. Let things develop.
LODESTONE: Ten of Rods

You've reached that distant shore at last, but the work doesn't end there. In fact, it's just beginning. While you haven't carried much in your travels to your destined port of call, still you carry something. Now it's time to unpack from your journey and begin the process of moving in. A new home awaits, a new state of mind, a strangely familiar landscape with a great new space to explore. As you move toward getting acquainted with what you are about to discover, feel the greatness of the raw power you wield. Your inner reserves are strong. The work you have been doing to untangle thought-habits and ancient stories of self has embroidered upon you a clear road map for your energies to follow. The way ahead is clear, for the most part, yet undulating in how much force you can carry through at once. Feel forward with the highest order of your internal powers of human beingness. Be ready to adjust your flow of energy as you go, giving a little more oomph to your project as expansion allows. Likewise, be prepared for moments when you will need to pull your energies in, to recalibrate, to adjust your intuitive hold on what it is you're doing. You'll accomplish more in this way, and find the path forward a lot straighter than you first thought it to be.
MOST OMWARD DIRECTION: The Magician (reversed)

As you settle into a more refined and wide-open space for your inner reserves to expand and uncloak themselves, take your time. 'Tis better to gather with patience and wisdom than with a blasting rush of hocus-pocus "Ta-da!" As you allow yourself to settle into a higher modality of being, into the primal nature of your magical self, stick with the plan. If the plan is still developing (which it probably is, as is the nature of magical creation), get your inner reserves of patience and power in line with the tempo of destiny's reveal. After all, moving too quickly now might make you miss an important detail. Trust the plan to serve your highest aims and nature. Allow the tools to make themselves known. Everything and everyone who your soul has summoned in this about-to-be grand creation is on the way to you. Nourish your connection now with the divine plan and the divine planner, and keep adjusting your position to maintain a clear alignment with your goal. All the skills you need are in your possession already; give them time to ripen and soon you will have everything lined up for the greatest success.
CONTEMPLATION
An excerpt from Opalescence: The Pleiadian Renegade Guide to Divinity, for this week:
"Six equips you with natural abilities which are only reserved for coming to your awareness during times of stressing the system with contradictions so powerfully deadly in their manner of expression that a normal person becomes not-normal to themselves. At that point, Six is of a status whereby Six transforms one person into another for the purpose of awakening the soul to a greater part of its divinity. Naturally, it is a difficult transition for most people to make, but Six can do it with ease. If you can learn the logic of Six without fear tripping you up, you can bring yourself to a level of mastery that you probably have never before imagined not only possible, but necessary to your soul's creation as love in action."
Get into Opalescence
Explore Nine's Path
You can join a discussion of this and other tarot posts at the Roundtable Forum: http://www.transients.info/roundtable/