Ready to Become Transformed?
Summary: There's no putting it off any longer. The light is ready to shine, and it's your job to carry it through the darkness. The time has come to become transformed. You've tended it faithfully, and allowed it to lead you into the darkness where your power was revealed to you. Now, let it fill your mind, from where it dwells in perfect equanimity within your heart. Turbulence will settle. The days ahead are days of joy unbounded, as you find yourself in a whole new reality, and see everything in a new light.
Read on for more insight…
Knight of Swords — Queen of Cups — The Sun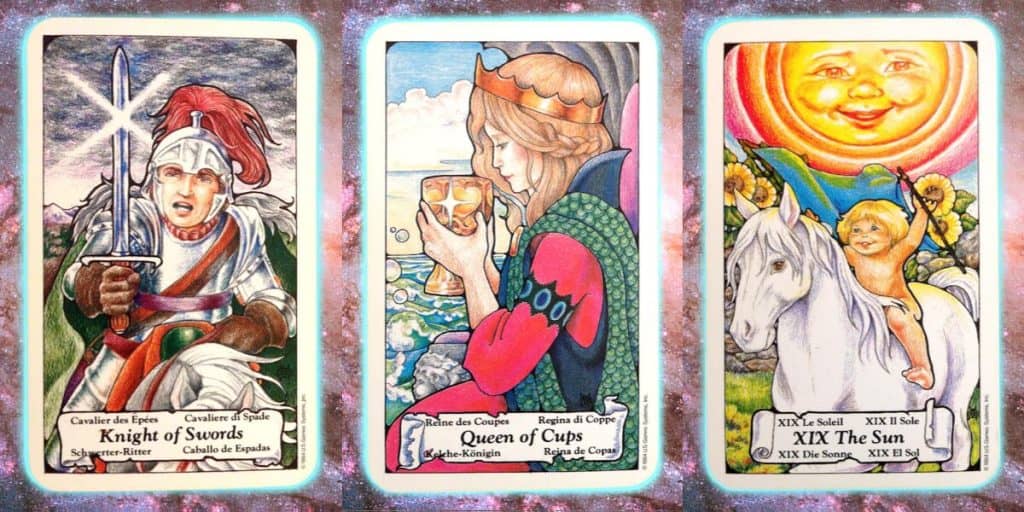 Ready to become transformed? Get ready for the ride of your life! For maximum enjoyment, let go of anything that labels, defines, limits, or bores you.#pleiadian #tarot #nine Click To Tweet
FOUNDATION: Knight of Swords

Seems like everyone's got an opinion these days, but there's little sense circulating to clear the air. In fact, the communication's become so tangled and dense, there's not much clarity in what anyone is saying lately. The light just can't seem to break through. At a time like this, when there's a sense of urgency building to make a point and bring knowledge into the dark days of confusion, ignorance, and chaos, you feel the call. Is your mind focused on that message that you've been charged to carry forth? Is your message honed to crystal clarity, so that with a single swift movement you can open a stalled conversation and bring light into circularity of thought? It's time to straighten the road ahead; your singularity of vision will guide twisted energies into a trajectory that leads your light home. When you combine the clarity of mind with the incisive communication of truth, you will have slain the monster of ignorance. Let it fall where it will, for you have a mission to carry on. Just be careful not to get ahead of yourself. If you follow the light, you won't block it.
LODESTONE: Queen of Cups

There's a distinct possibility that your emotions are turbulent beneath the surface. Perhaps they're even breaking through the otherwise calm façade you bear. It's a good time to reflect on that light that rests as a still point within your heart, for that is the source of all calm amid any storm. Whatever the waves are bringing your way, your demeanor of risen trust in the processes of time and nature reflect and ripple out from that still point. You may not even realize how much you are calming the turbulent waters around you, simply by claiming, accessing, and aligning with that inner light you carry. Hone your vision so that this light fills your mind; only then will you bring it to its full transformational brilliance. Within your vision is the power of transformation. Own it, and become the risen one you have been striving to be. In finding the light within, you find the pathway to shining. Become the light and become transformed. The power of your mind integrated with the power of your heart, in this moment, is nothing short of astonishing.
MOST OMWARD DIRECTION: The Sun

You have the power to change the world from dark skies to fully-lit joy. In the days to come, you'll know it. The transformational brilliance of the days ahead give you new life, new strength, and set you on a renewed journey of divinely illuminated adventure. Gone will be the shadows in the day that is set to dawn. There is no deviation from that brilliance that is growing in potential by the day. Radiance is destined to ripple through the skies and love-drenched light to bathe your world in a new clarity. You have much to look forward to in the days of transformation that come, not least of all a rejuvenation of spirit unimpeded by dark geometries. Your path, in alignment with the call of your soul, is about to take a new turn. Get ready for the ride of your life! For maximum enjoyment, let go of anything that labels, defines, limits, or bores you. Life is for the living, and you are making the choice to live. Aren't you?
CONTEMPLATION
An excerpt from Opalescence: The Pleiadian Renegade Guide to Divinity, for this week:
"The dream can be one of love or mayhem; the need is always the same. In the land of love and peace, there are no wrong creations, only love making itself hidden, moving in shadows, laughing quietly at the loveless illusion the world believes is real. In the blink of an eye, love pours opalescent light over the darkest night and everything is transformed. On Nemesis' chores love applies itself and slips in between the cracks of humans' carefully crafted exterior personas."
Get into Opalescence
Explore Nine's Path
You can join a discussion of this and other tarot posts at the Roundtable Forum: http://www.transients.info/roundtable/