Rocket Boosters Ready…
Summary: There's a certain kind of prickly sensation that comes with emergence from the confines of seclusion. If you feel a bit jumpy, consider that you've been moving through a series of membranes from one reality into another. Look around. You're not alone. Magnetically drawn to like energies, you find yourself at a point of convergence of erstwhile parallel paths. Enjoy the boost in your inner sun, for it burns brightly now, pumping you full of confidence and a strange accompanying peace. That's grace. What lay just ahead requires it. You'll be fine. Just remember who you are and acknowledge who you've become. Nine is moving through you.
Scroll down for the full message…
Three of Cups (reversed)  — Queen of Rods — Nine of Rods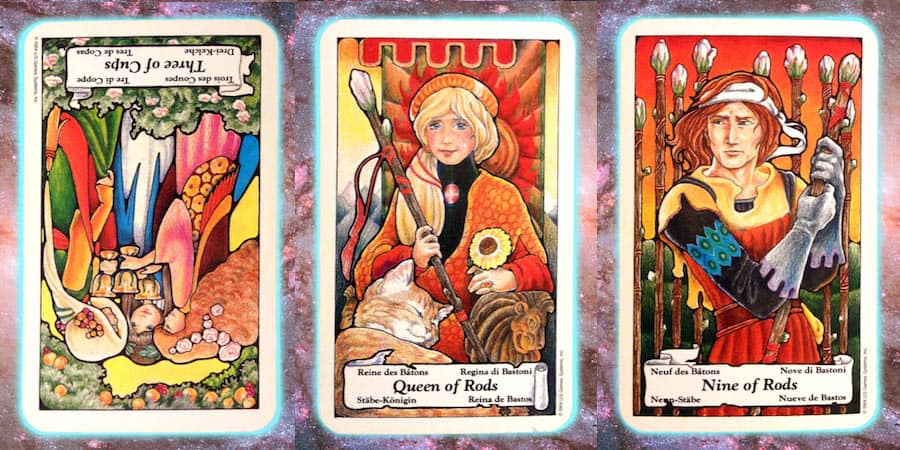 When you take on the quest for the Holy Grail, you will doubtless come to the time of testing. Take a good, long look at who you've become. Confidence. #pleiadian #tarot #reinventyourself Click To Tweet
FOUNDATION: Three of Cups (reversed)
The troops are gathering. So are friends. It's all starting to come together, with a sense of enlivening, of emotional currents running through every meeting, every point of contact. Whether that current is positively or negatively charged is in large part up to how you take it. You can always choose not to engage. However, right now, it's in your best interests to join your energies with like energies, and to create a circuit that has some purpose. You don't have to go searching for this, either. It seems to be the mode of the moment, for those who have traditionally worked alone, in the shadows, or incognito to emerge, at least a little bit, from seclusion into the warm welcome of kin. Again, whether that's blood relation or merely a singular recognition of consanguinity matters not. It's all how you perceive it. You and all who share this wide world are all related somehow, by blood or degree, by nature of purpose or common intent. Even those who cannot enter into the holy circle of your heart-centered human communion are finding their own space for personal reflection within the shared space of relativity. Look around and see that you are never really alone, nor are you separate any longer from those who have been busy clearing the way for their path to lead to its destination. That must mean that those paths are about to converge. Enjoy the moments of discovery that ensue.
LODESTONE: Queen of Rods
You're glowing. Something's stirring within you that's lit your fire. It shows, and not a moment too soon, nor too late either. Bask in the satisfying comfort of finally having your desire to trust the system answered in a roundly affirmative manner. As you sense the life deep within you beckoning you to greet potential with open arms, know that you have come to a moment in which you recognize your soul peeking through with a smile. Allow the confidence to build, and as you do, remember to stay grounded in reality, even as that reality is shifting before your very eyes. So many possibilities present themselves, all wrapped up in the packaging of soul purpose. Yes, you are on the right track, and yes, you have found the key to unlocking immense power from within the sacred coffers of your heart. Carried through lifetimes, you have brought it safely through the fires of transformation and the battles for survival, all met with grace and all, for the moment, behind you. Right now, let that fire catalyze the reaction that leads to the new you becoming fully fledged in the art of living well and doing purposefully. There's no need to overdo anything, but most certainly enjoy the passion that's burgeoning from deep inside your knowing kernel of self. There's never been a better time to start changing the world.
MOST OMWARD DIRECTION: Nine of Rods
When you take on the quest for the Holy Grail, you will doubtless come to the time of testing. One who has prepared for the task with a purified heart, who carries no ill will, who honors the true nature of human courage, resilience, and honor can enter into any test without fear. So now you have before you an opportunity to stand tall, to stand in the truth of who you are, and in the grace of Nine. Despite any appearance to the contrary, your success is part and parcel of your decision to be in the right place at the right time, and to bear within you no weight of grudge nor any other stale concept of misperception. You are, now, on holy ground. You are armed with light, with harmonic shades of higher awareness of what you observe around you. Remember: You are not alone, for an army of kindred souls stands with you. Take a good, long look at who you've become. Let this fuel your confidence further, and give you a heartening boost. What looms need not be seen as doom, but in a sense, it is the end of the world as it has been. Every epiphany you have ever had has been such a herald, has it not? You've witnessed change before. Now, you are on the front line. Stand for love, honor, and truth, and you will find the way to freedom.
THIS WEEK'S CONTEMPLATION
"More of your reluctance to be forthcoming with what you judge to be crazy notions of science fiction stems from your past history of seeing bringers of new knowledge punished or cast out of society. Now, however, more of society is on the outside and there is a growing hunger for the truth unedited. Don't hide your nugget of information. You are a vital part of a human organism that is just waking up on a grand scale. Be confident. Your voice counts."
— An excerpt from Opalescence: The Pleiadian Renegade Guide to Divinity
© Maryann Rada, all rights reserved. Repost permitted with link to original post.